Mike and his team at Hi Tech Pools and Pavers are excellent! We were kept up to date with the time line of what would be done and when. If I had a question, Mike was quick to respond via text or a quick phone call. He stopped by several times throughout the process to make sure everything was going as it should. There were no surprises or extra costs. Any concerns we had were quickly addressed and resolved. We are very happy with the work that was done and so pleased with how our pool turned out! Mike and his team went above and beyond to make sure that everything was done just as we wanted. We would recommend them to anyone!
-Lauren Wilson
We are thrilled with how our pool and pavers turned out, and we are SO happy that we decided to work with Hi Tech Pools & Pavers. Our pool area looks better than we could have imagined and working with Mike and his team was truly a great experience. They are all very professional and absolute experts at what they do. They really went above and beyond and we'd recommend them to anyone!
-Bridget McDonough
Met with the owner of the company. Not a high pressure presentation. Agreed on a price and schedule. Refinishing done in a timely fashion and very neat. Money well spent.
-Corwin B.
Bobby and Mike were great to deal with. The project was delivered under a tight time frame as promised and within budget. Project included pool resurfacing and pavers for decking. All of it came out great. They kept us informed along the way and sent loads of updates as we were not there during the project itself. In addition they kept the HOA informed and ensured that all requirements were followed. Would highly recommend them.
-Doug M.
After receiving estimates to refinish my pool for many years now, I was leery about too many contractor's "don't worry about it" attitude when it came to my important questions. Hi-Tech Pools was a pleasant change from that. The owner himself came out for the estimate and explained in great detail exactly what was involved in my specific case from pros and cons of different tiles and finishes right down to the treatment of my well water for the refill. Not only did the weather not cooperate during the project but my 45 year old pool had some hidden surprises for us to further complicate the issue and Hi-Tech didn't stumble one bit. The job was done on schedule, on budget and it looks like new. Thanks Mike!
-Glenn R.
Mike and his team completed this project ahead of schedule. We had him renovate our entire pool surface, pool tile and patio refinsihed with brick pavers. Every aspect of this job was done with perfection. We cannot find one single flaw anywhere. All subcontractors arrived on time and stayed until their jobs were done. We noe have a stunning pool and patio that is the envy of our neighborhood. Best experience we have ever had with a contractor. Highly recommend Hi-Tech Pools and Paver without hesitation.
-Ellen S.
Receive a free in-person consultation from one of Hi-Tech Pools & Pavers Consultants.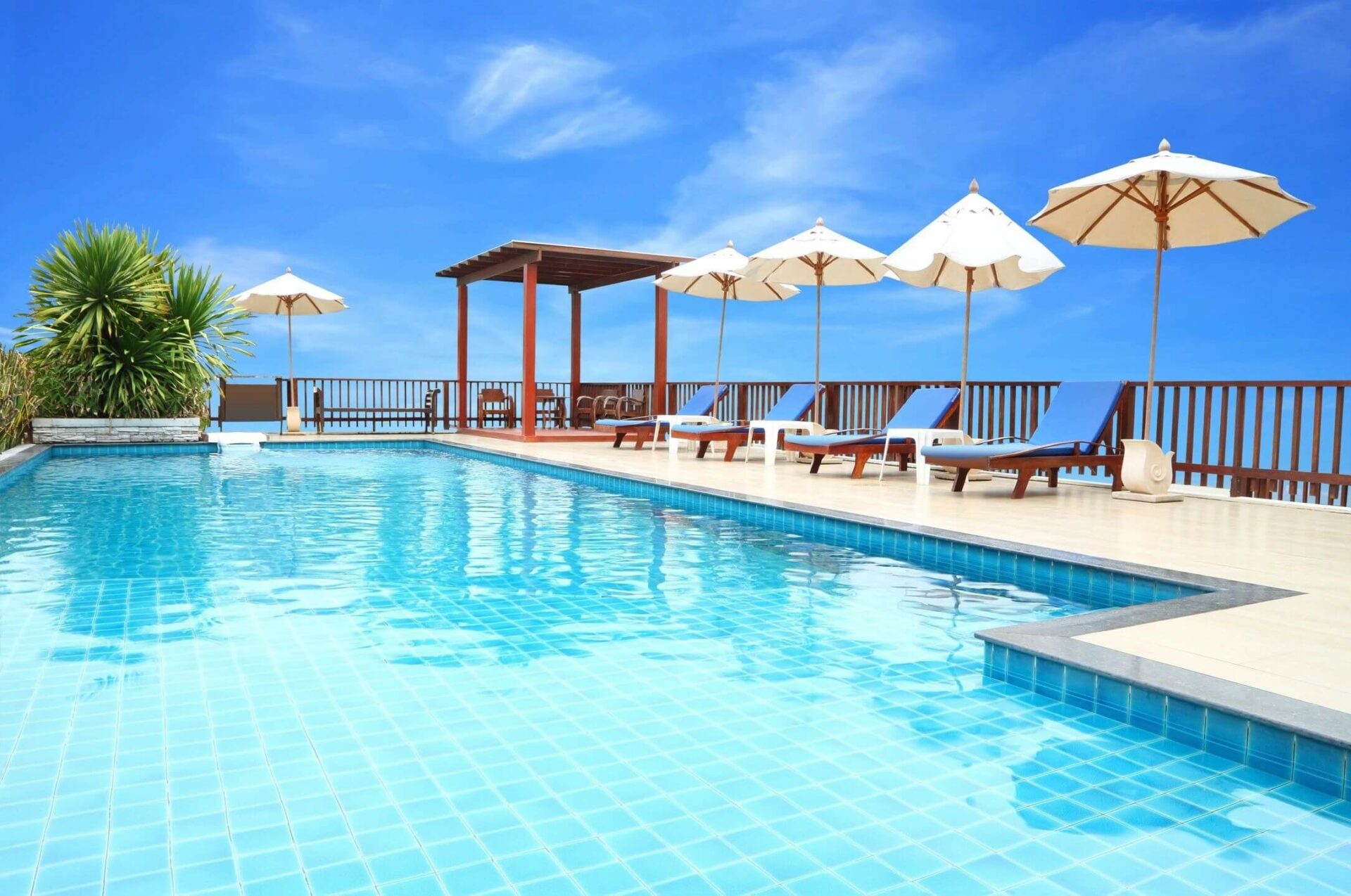 Natural Durability
Heat Resistant
Does Not Fade
Natural Elegance
Variety of patterns & colors
Natural Stone blends in with landscaping
Pool Interior Resurfacing
Coping and Tile Edging Replacement
Paver & Travertine Patio Installations
Filter System and Equipment Upgrades
Manufacture High Standards
Durable Uniform Product
No Curing Period
Very little Maintenance
Variety of Shapes and Patters